​Startup Spotlight: Justin Hartzman of Needls.
By Carol Neshevich ● August 05, 2017 16:00
What do professional gardeners do best? Gardening, of course. Just like wedding planners are best at planning weddings, plumbers are best at plumbing, and dog walkers are experts in — you guessed it — walking dogs. So when it comes to social media advertising, small business owners like these may find themselves struggling to figure out what, exactly, they should be doing, since social media advertising simply isn't their area of expertise.
That's where Needls. comes in. This Toronto-based company has come up with a platform that makes it simple for small business owners to advertise through social media, allowing them to free up time to focus on what they do best.
Debuting in April 2014, Needls. began by analyzing millions of social media posts daily to find sales opportunities that businesses could pursue. One year later, it had evolved from a lead-identification platform into what company CEO Justin Hartzman calls "the Internet's first robo-agency" — an automated advertising platform aimed at creating, targeting and optimizing ads on Facebook and Instagram. Then in Spring 2016, Needls. launched the current version of the platform, which features a more intuitive user interface, more advanced optimization methods and a new website.
Here, Hartzman describes where the inspiration for Needls. came from, what the challenges inherent in being a startup entrepreneur are, and what the "feel-good" rewards can be that come with running this kind of business.
---
What inspired you to start Needls.?
Justin Hartzman: My co-founders and I had been running two service companies: All You Can Eat Internet, which was a web development firm for web apps and business back-end services and all those fun cool tools; and WeSellYourSite.com, where we pioneered the internet web brokerage business, selling web properties like websites, e-commerce, content plays, software services, internet providers – whatever it may have been, but in a boutique space — so anything between $1 million and $15 million in EBITDA (earnings before interest, taxes, depreciation and amortization) per year. We sold to Fortune 1000 companies, private equity firms and individuals looking to start their own businesses.
One day we were in meeting where we were trying to figure out how to grow those businesses, and I got a call from my wife saying, "I see on social media that your friend needs an iOS app built; I think that's an iPhone app, right, and I think you guys build them?" It was a guy I haven't spoken to in 10 years, a friend from high school. I reached out to him right there in the meeting and it turned out to be a $60,000 contract. That was awesome in itself, but it also sparked the lightbulb. We were in a meeting talking about how to grow our business and create more leads, and then we saw that there were people who had needs and asked for things on social media, but no one was servicing them. So we decided to build a system that finds leads through social media by monitoring conversations. That's how the initial product started.
It morphed last year into a full-service ad platform: the first "robo-agency" to exist online. We've done to email marketing what Wealth Simple did in the wealth management space. They're a robo-agent, we're a robo-agency who go and create, target and optimize digital advertising for small businesses worldwide.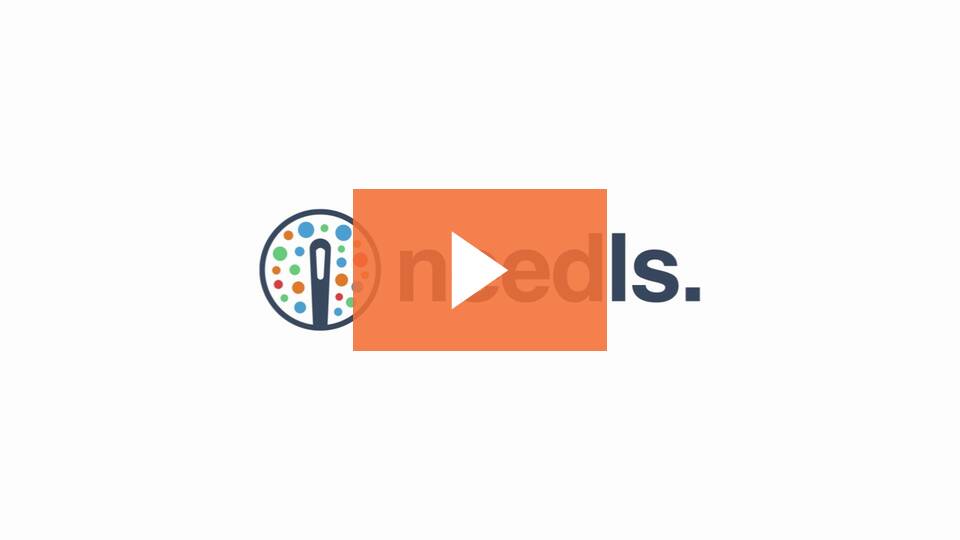 Can you give some examples of how people are using it?
Hartzman: We're industry-agnostic and have more than 150 different industries on our platform, so it can be anything — like plumbers, real estate agents, insurance agents, Internet marketers, e-commerce sites, dog walkers, wedding cake designers, anything that you can think of. The idea is that we're meant for anyone out there, so we allow them to focus on what they're best at.
If you're a dog walker, you should be out there dog-walking. In other words, you should be spending your time doing that. Let us do the heavy lifting when it comes to social media advertising.
With a few simple questions using data science and natural language processing, we can understand who you are, what you're selling, and who you want to sell to. We do everything for you past that. Just a few questions and you're done.
What differentiates Needls. from anything else out there?
Hartzman: There are 65 million small businesses on the Facebook platform, four million of which are advertising today. The status quo options are do-it-yourself — which can be very hard — or to go to a typical digital agency, which many small business owners can't afford. So we've created a service that is attainable for all these people.
The other services that exist on the market today service the four million who are already advertising on Facebook. We drew the line in the sand and said that we're going to build it for the 61 million who can't get or who aren't on the market, not for the four million who already are.
What are some of your greatest challenges as an entrepreneur in a startup business?
Hartzman: Well, everything is a challenge. There are going to be super bright days, there are going to be super dark days, and if you think otherwise, you're wrong. That's where you have to be able to weather those storms and take the good with the bad. There's a saying that I heard recently that really rings true, and I use it a lot now: "All the best things in life come on the other side of fear." So if you take that step onto the other side of fear, you're going to see what comes next, and it's usually good. So if you continue to step one foot in front of the other, and understand that things are hard, and if they were easy everybody would be doing it, then everyone's going to get to where they need to get to. You just have to keep pushing.
On the flipside of that, what are some of the greatest rewards of being a startup?
Hartzman: Every day there's something different, whether it's learning from our team to understand what helps them grow, or seeing people taking steps to do what they love, hitting milestones that we set for ourselves, or building legacies for our children and families doing things that we love to do.
For us specifically, we get to actually help small businesses. Here's a great story. There was a lady in her 70s who walked three dogs a week. She came to us and said, "Hey guys, can you help me get from three dog walks to 10? I want to get better presents for my grandchildren for Christmas and this is how I'm going to do it." Three months later we got an email from her saying, "Hey guys, it's unbelievable but I have to cancel your account." We said, "Why? We thought we were doing so great, we see your stats, you told us how much you loved us." And she said, "Honestly, I have 10 dog walkers working for me now, who are each doing 10 to 20 dog walks a week. I have the ability to buy my grandchildren all the Christmas presents they ever wanted, and you helped us to get to that spot, and that's all I need for now. We don't need to grow any more." So we are actually helping these people, small businesses and hard-working entrepreneurs, make their dreams come true and get to their goals. That's exciting for us on a daily basis.
What prompted you to join the CFC Media Lab's IDEABOOST network?
Hartzman: It really came down to wanting to be more involved in the community and wanting to know what was out there. To getting to know a great group of people we can work with who will give us information that we didn't have before. I came from this world where I thought I knew everything and I couldn't do wrong. But three years ago when we were starting this company, I changed that attitude. I started becoming involved in accelerators and groups filled with smarter people than I am to learn from them. That's been an unbelievable experience. Without having that mindset change, I don't believe we'd be where we are today.
What's up next on the horizon for Needls.?
Hartzman: We want to continue to help small businesses grow, and put more money back in their pockets as they grow their businesses. We also want to hire more people and bring more tax dollars to the communities, and keep this win-win-win going around for everyone.
This interview has been edited and condensed.
---
IDEABOOST Accelerator is a four-month boot camp for tech companies that want to achieve success and scale in the media and entertainment ecosystem. An initiative of the Canadian Film Centre's Media Lab, in partnership with Corus Entertainment, IDEABOOST provides high–potential Canadian startups with seed investment, mentorship and access to its network. Join Network Connect to find out more.